When you write your email campaign you have to know what it is you are aiming for. What action you want your subscribers to take.
It has been said that it takes on average 7 messages before someone takes action and makes a purchase. So how can you implement that in your email campaign?
Well, you need to know what action it is that you want your subscribers to take and then expose them to that call of action at least 7 times!
Here are some ideas on how you can go about doing that:
1) Create a free report with a call to action in the report. Do this in your email campaign not just as a way for people to opt in to your list. Be careful not to use the word free in your email subject heading as it might get picked up by spam filters.
2) Write a content email offering valuable information – think of it as writing an article. Then at the end of your email you can add your call to action. Make sure that you make your paragraphs short so that it is easy to read.
3) Send your subscribers to a great article or blog post that you have written online and make sure that it has the right call to action at the end of it.
4) You could also send your subscribers to a video or podcast that you have produced and again make sure that the call to action is the one you want it to be.
5) Promote your product offering it as the solution to a problem that you know your subscribers have. Don't try to sell it just write the facts and include a call to action.
The important thing to remember in your email campaign is that you are always offering valuable content and building trust with your subscriber. You can do this at the same time as having a call to action – the 2 do not need to be independent.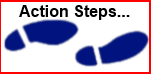 1. What action do you want your subscribers to take?
2. What words will you use in your call to action – have a variety of assertive phrases.
3. Plan 7 emails that will be valuable to your subscribers that you can add your call to action to.
4. Have one email campaign for each specific call to action – or you will confuse your subscribers.